The Backbone switches in the MACH4000 family are equipped with 8 or 16 Gigabit Ethernet ports as standard. By adding additional hot-swappable 8-port media modules, the port density can be increased to 24 or 48. Depending on the model of switch (5 versions available), three 10 Gigabit interfaces are also provided.
Further features of these backbone switches include various routing functions, comprehensive management and redundancy methods, as well as numerous security mechanisms. A USB interface can be used for connection to the ACA 21 auto-configuration adapter, which can be used to save all configuration data as well as to conveniently upgrade the operating system. Due to their robust design,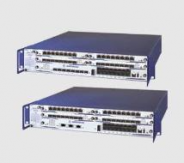 the MACH4000 switches can withstand shocks and vibrations, magnetic fields and electrostatic discharges. The switches also boast a number of industryspecific certifications, making them suitable for use in such areas as transformer substations (IEC 61850), railways (EN 50121-4), and onboard ships (GL).
Features
Application flexibility, owing to hot-swappable media modules (including efficient powering of devices via PoE)
Highest level of data security, with numerous security mechanisms
Five different versions with high Gigabit Ethernet port density and – depending on the individual model – additional 10 Gigabit interfaces
Robust and compact metal housing
High resistance to shock, vibration and electromagnetic interference
Industry-specific certifications, making them suitable for use in such areas as transformer substations (IEC 61850), railways (EN 50121-4), and onboard ships (GL)
Operating temperature range from 0°C to +60°C
IP20 protection rating
Technical Information
Read more:https://inaparts.com/industrial-machine-equipment/hirschmann-mach4000-backbone-switches-and-media-modules/