Flow transmitters are typically bundled with flow meters resulting in maximized performance. Flow transmitters transmit the flow value data in order to monitor the application or system. Technologies offered include variable area, positive displacement, and fiber optic.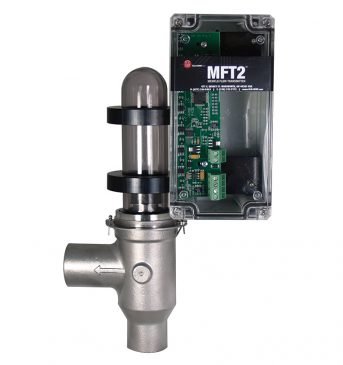 The MFT2™ two-wire flow transmitter accurately calculates and outputs flow rate. Compatible with any MEMFlo variable area flow meter, MFT2™ combines FLO-CORP's time-proven variable area technology with a high tech processor and solid state circuitry.
Each device includes an analog output that can be configured for 0-5 VDC, 0-10 VDC, or 4-20 mA current loop. Typical applications include pump flow output, compressed air consumption, cooling flow monitoring, steam flow usage/optimization and combustion gas metering.
Features and Benefits
Non-contact sensor electronic
Electronic signal conditioning circuit
3 output modes: 4-20mA, 0-5 VDC or 0-10 VDC
Proportional analog output – two-wire, 4-20mA
Designed to slip over any standard measuring tube
Pre-calibrated from the factory for fast installation and start-up
Optional Epoxy Coated Aluminum Enclosure for durable, rugged applications
Specifications
Read more:https://inaparts.com/flow-measurement/memflo-universal-mft2-2-wire-flocorp-flow-transmitter/