Flow measurement provides a variety of application-specific challenges because each has individual measurement requirements, restrictions, piping considerations, etc. FLO-CORP's experienced team is second-to-none when providing expert flow advice on the correct meters for your application. Our team will help you navigate through the selection process if you are not sure which meter to use. Technologies offered include variable area, positive displacement, ultrasonic, magnetic, mass, and open channel flow meters.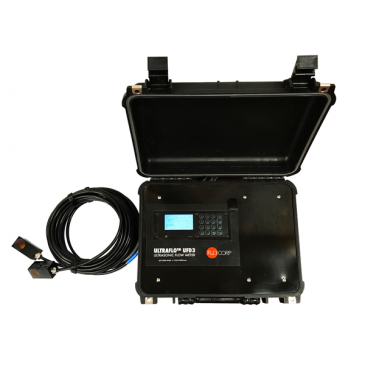 FLO-CORP's Ultrasonic flow meters measure the flow of most liquids using clamp-on digital ultrasound transducers. The clamp-on transducers are made of rugged PVDF and rated NEMA 4X. They are easy to install and do not use any moving parts. Choose from either portable for fixed units. The UltraFlo can measure almost any fluid from potable water to 30% thickened sludge.
The UltraFlo™ UFD3 ultrasonic flow meter is a fixed or portable, clamp-on flow meter that is easy to install, accurate, and simple to use. The UltraFlo™ UFD3 is equipped with intelligent software to ensure high accuracy and low-velocity response. The flow meter has the ability to be a fixed unit or portable unit. The UltraFlo™ UFD3 ultrasonic flow meter is widely used in applications such as oil and gas, water treatment, pure water, chemical, and much more.
Features and Benefits
Backlit bright LCD display
RS232/RS485 or Modbus communication
Portable or Fixed unit
Highly accurate and easy to install
Clamps onto the pipe, requires no need to cut pipe
5-year warranty
Specifications
Read more:https://inaparts.com/flow-measurement/type-flow-meter/ultraflo-flocorp-ultrasonic/